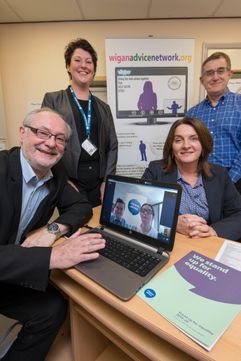 Advice network provides on-demand advice with Citizens Advice Wigan Borough
A network of advice giving agencies and Citizens Advice have launched a unique service that will allow people to gain support on a range of issues from wherever they choose.
The Wigan Advice Network's (WAN) Skype Advice Service will provide residents living in the Wigan Borough with access to free advice from Citizens Advice Wigan Borough (CA) at a time and place convenient to them.
Available on Skype-enabled devices, such as tablets and laptops, or via dedicated terminals available across Wigan and Leigh, the new service will allow users to speak face-to-face with a trained adviser – receiving instant support or being referred to an agency or charity who can provide further assistance.
The Skype Advice Service – the first of its kind in the Wigan Borough – will provide users with advice on a wide range of subject, from how to access housing and health services, to dealing with debt and finance issues.
Lisa Kidston, Chief Officer at the Citizens Advice Wigan Borough, said: "Good and timely advice is essential to people's well-being and quality of life, and we are always looking for new and innovative ways to help people.
"By partnering with the Wigan Advice Network to launch the Skype Advice Service, we are making advice more accessible, whilst ensuring people have access to help and information when they need it most."
The service is being trialled at the Higher Folds Community Centre, before being rolled out at venues across the Wigan Borough, including Ashton and Tyldesley SureStart centres and Wigan Housing Solutions offices.
People wishing to access one-to-one advice can also do so from their home or office provided they haveaccess to Skype.
Commenting on the new Skype Advice Service, Leigh East Councillor and Cabinet Member for Health and Adult Services Keith Cunliffe, said: "This is an innovative approach to helping people access a valuable and important service.
"At Wigan Council we very much advocate the use of digital technology to improve services and empower people."
To speak to a qualified adviser using the Skype Advice Service, text 'Help Skype' to 87023 or email advice@wigancab.org to book an appointment at a convenient time and place.
This latest project already builds on three services designed by WAN to improve the availability and quality of advice throughout the Borough.
In July 2015, WAN launched theregion's first Advice Referral Centre (ARC) - an online resource for allcommunity, voluntary and public services. The ARC means that anyone in need of advice or support can be efficiently referred to the right services for their needs.
The Network also provides an online self help guide on its website, empowering the public to search for the right advice agency to solve their issues.
To ensure the quality of advice dispensed throughout the Wigan Borough remains high, WAN runs training programmes to help charity and agency staff learn more about issues facing local people, including courses on Universal Credit and how to spot problems before they become major issues.
If you need advice, support, or someone to talk to, please visit www.wiganadvicenetwork.org or call Wigan Borough Citizens Advice on 0344 826 9694 to speak to an adviser.