Leigh rises to the Challenge
This year's Wigan Vs Leigh Charity Challenge, organised by Wigan-based Stroke awareness charity Think Ahead Stroke Group has been hailed as a great success by those who attended. A day of friendly competition celebrating the rivalry between the two towns ended with Leigh being named champions for 2011.
Over 300 people came down to the Harriers Ground, Leigh Sports Village, to take part in a variety of sporting activities including an assault course, rock climbing wall, mini football & rugby tournaments, as well as the lesser known 'Pass-the-Pasty' race!

The event began with a 1-mile fun run, won by four Leythers -Ryan Moore, Alex McPolin, Liam Moore, Adam Jamson who all finished together. Tokens were awarded for taking part in all the activities, with Leigh gaining a total of 243 throughout the day, compared to 157 for Wigan.

'Pass the P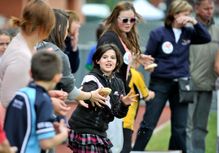 asty', a team relay race that closed the event, was a tribute to the pasty-loving host town of Leigh, and looks set to inspire a pie-related event at the Olympic themed Charity Challenge in Wigan next May. Alongside the host of fun activities, there were also a number of opportunities to learn about the benefits of a healthy lifestyle, with representatives from Health Trainers, Active Living and Think Ahead Stroke Group providing information.

Think Ahead Stroke Group provide a network of support for Stroke Survivors, their families and carers through their unique long term 'Living with Stroke' programme. They also organise a range of suitable social and educational activities for members from Wigan, Leigh and the surrounding area.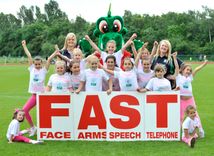 Mike Aspinall, chairman of Think Ahead and staunch Wiganer, said: "I'm absolutely gutted that Wigan lost. It means I can look forward to plenty of stick from our office!

"I'd like to take this opportunity to thank everyone who came down and got involved, our volunteers who gave up their time to help out and of course Greenhalgh's bakery for supplying the pasties and Leigh sports village.
"Thanks also to local Co-operative stores for their kind donation of water bottles, as well as Costco and Bookers cash & carries for cereal bars to feed our tired athletes.

"The money we raised from donations on Saturday will be put to great use in the local community."
The Charity challenge was supported by a grant from the National Lottery 'Awards for All' scheme, which funds small, community based projects in the UK.