Survey Reveals 57% of Home Care Businesses Considering 24/7 Monitoring Tech
- Home care providers have prioritised staff and work scheduling solutions to date
- 86% of home care agencies seek customer feedback quarterly or less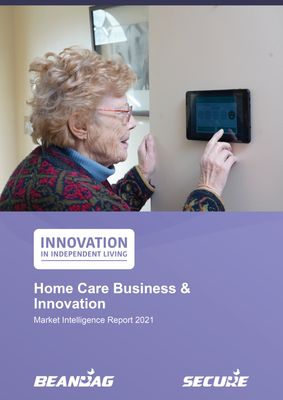 A survey of UK commercial home care agency leaders by international home care technologists Secure has revealed that 57% of respondents stated that they are 'considering investing' smart 24/7 home monitoring technology.
However, the survey also revealed that, to date, care businesses have been prioritising investment in staff management and work scheduling technology.
95% of home care business owners and managers claimed to have invested in care scheduling technology, while 86% have purchased systems that monitor carer activities via mobile apps.
In comparison, only 10% of respondents have invested in 24/7 home monitoring, and 19% in fall detection.
Home care business decision makers cited upfront capital costs and a lack of awareness of Technology Enabled Care (TEC), as the two main barriers to investing in the latest technology.
However, when asked their view on the potential value of smart, 24/7 home monitoring, business leaders identified the ability to allow customers to live independently at home for longer, whilst also increasing customer feelings of safety and peace of mind, as key benefits.
Another interesting finding revealed that 85% of home care businesses sought care quality feedback from customers quarterly or less.
Paul Botsford, Secure's Head of Assisted Living Technology and Services for Beanbag Care said: "I think these survey results are a very honest reflection of the current state of play in the commercial home care business market.
"I know from my conversations with care business owners and managers that it's not a lack of willingness to innovate that's the problem – but a shortage of time and money.
"The crisis in social care isn't just related to the high-profile problem of staffing and profitability, but these have a far-reaching impact on the ability of many businesses to think and act strategically.
"If you're busy trying to survive it's difficult to invest in the systems that will ease the care bottleneck, improve care standards and allow businesses to do more with less resources.
"We know that we are in a challenging and competitive market, but to put it bluntly, that's why we're here and why we created Beanbag Care: because the opportunities for growth and improvement are enormous, if we continue to deliver a solution that fits the realistic needs of the market.
"Paul concludes: "I think smart monitoring and feedback enabling technology will be a game changer, because it moves beyond doing the same things more efficiently, and instead offers home care businesses new solutions for deep seated challenges."
Secure is the developer and exclusive supplier of Beanbag Care, a suite of smart independent care solutions that improve the quality and efficiency of care, whilst allowing older people to live safely in their own homes for longer.
To download the Innovation in Independent in living market intelligence report, visit the Home Care Business & Innovation or go to www.securemeters.com/HomeCareReport2021