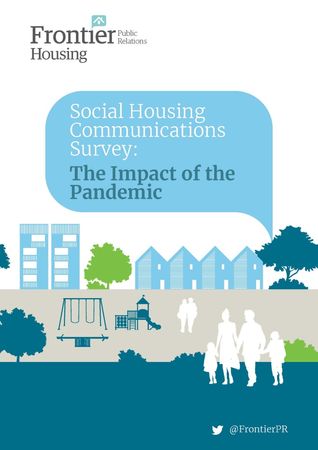 The pandemic presented some of the most challenging communications scenarios faced by UK public relations professionals in living memory.

This was particularly true for those responsible for social housing communications, many of whom faced two distinct but equally daunting tasks. The first was protecting tenants and households from the coronavirus by issuing the right information and advice at the right time, minimising the spread and impact of the virus across communities, whilst still delivering essential services and support to people and homes.
The second was to work out how to maintain communication with a now disparate, home based workforce – many of whom were dealing with their own personal anxieties.
How can comms seek to maintain or even further the office culture and camaraderie remotely?
Both of these challenges featured heavily in the results of Frontier Public Relations' survey of housing communications professionals conducted earlier this year.
Thank you to everyone who participated, and if you'd like to read through more in-depth interview content and analysis via articles posted on LinkedIn.

Download Social Housing Communications Survey: Impact of the Pandemic.
frontier_public_relations_housing_communications_and_the_pandemic.pdf

To request a social housing communications brochure from Frontier Public Relations, please email david@frontierpr.co.uk